When shower caddies or shower organizers come to mind most people envision the type that hang from the showerhead.  While the hanging shower caddy is versatile and works in most shower setups they are not suitable for all.  In particular, showers that have no tub are perfect for a different type of shower organizer.  A stand up shower caddy, specifically those made from solid teak wood may be the perfect accessory to create the luxury bath feel that you have been craving.  Stand up shower caddies are designed to store and organize bath products without the need for any other support.  They are free standing and come in a number of shapes and sizes.
There are 3 basic types of teak stand up shower caddies.  The first and most traditional is the square or rectangle.  However, the corner and portable teak shower caddies are designs that may suit you better.   Which one is right for you?  Keep reading to learn about the features and benefits of each.
Square / Rectangle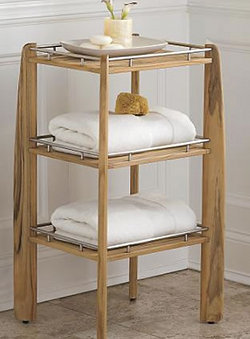 Square teak stand up shower caddies offer the most amount of space.  These square or rectangular caddies are a godsend if you have many shower products or if you have a large family then this type of shower caddy is for you.  They also work great for use out of the shower as storage for towels or other bathroom necessities.
Corner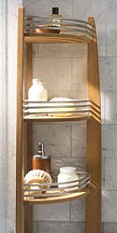 If you have a smaller shower then a corner shower caddy is a great way to efficiently use the space you have without giving up your favorite shower products.  Whether you prefer one that is shorter, around knee height or one that comes up to around chest height to minimize bending down, it is your choice.
Portable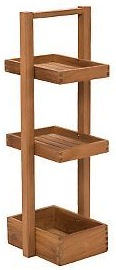 Some self-standing teak shower caddies have a more portable feel to them.  The most common one at right has three tiers or baskets to store your bath products.  This teak shower caddy is perfect if you have a separate tub and shower but like to use the same products in both locations.  Rather than buy two of every product or shower accessory, using a portable teak shower caddy can solve the problem and save you money in the process.
Now that the differences have been covered we can look at the similarities.  The commonalities between the different types of stand up teak shower caddies included solid teak wood construction, multi-tiered design and similar wood tones.  It is so important to buy only solid teak wood shower caddies.  They will be more stable and will last much longer than any wood style shower caddy that it is not made from solid teak.  The design and wood tone are entirely up to your personal taste, indulge yourself and be happy.
No other wood compares to teak with regard to elegance, low maintenance and durability.   These stand up shower caddies can be used both indoors and out.  Don't hesitate to add some style to your shower with a stand up teak shower caddy.