What is a Teak Shower Caddy?
A teak shower caddy and shower caddies in general keep soaps, shampoos and other bathing related items in a neat an easy to access configuration and are a must have component of any bathroom. A teak shower caddy is not only a functional part of the bathroom; it is also a way to beautify your bathroom. Teak shower caddies, like many wood furniture items come in a wide ranges of looks, shapes and sizes. Rest assured that you will be able to find a teak shower caddy that will meld with and enhance the aesthetic appeal of any shower you have.
Teak Wood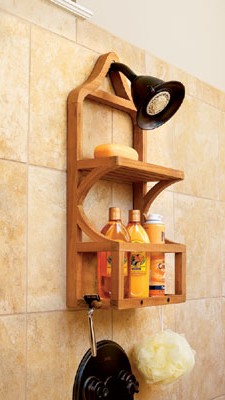 If you are not familiar with teak wood you should know that it is one of the best woods to use in and around water. It has a naturally high oil content that prevents mold and decay even in constantly moist and wet environments. Caring for teak wood is a snap. Simply purchase a bottle of teak oil and rub over the wood with a frequency of every three months to once a year depending on how much use your teak shower caddy gets and how often it gets wet.   Check out the teak shower caddy care page for more details on caring for a teak shower caddy.  Teak is a very dense wood as well which contributes to its suitability for use in the shower. If left to weather, teak wood will turn from a honey color to a beautiful silver grey. Unlike many other wood varieties, teak wood will not splinter during this aging process so there is no risk of injuring yourself.
Using a teak wood shower caddy will also keep your shower in better shape since teak wood will not rust, corrode or pit. No more scrubbing rust stains from your shower wall or looking at an unsightly rusted and corroded metal shower caddy.
Teak Shower Caddy Styles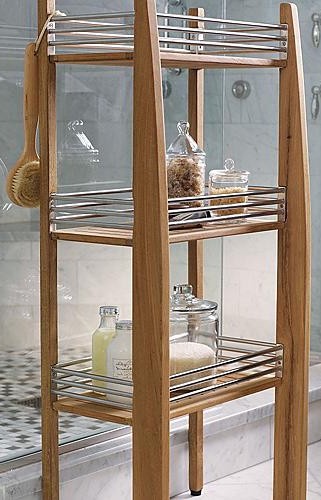 There are a number of teak shower caddy types, some which hang from the shower head while others rest on a flat surface and even span the width of the tub. The most common are those that hang from the shower head. These are very easy to use and typically have little to no assembly, simply slip over the shower head and rest on the water pipe coming through the wall. The stand up teak shower caddies are better suited for use in a shower without a tub or an all tile shower. These typically have several shelves and are about 3 feet high.
Though not a traditional shower caddy, the teak shower caddies that span the bathtub are a great option. The nice thing about this type of shower caddy is that it can be used to rest a book or wine glass if you are in the mood for a relaxing bubble bath.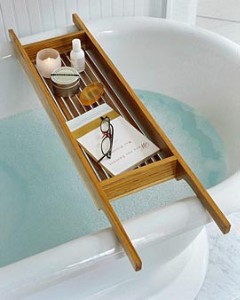 Another option out there is the portable teak shower caddy. These are shower caddies that have a central handle or strap with storage areas around and/or below. If you know a college student, a portable teak shower caddy would be a great way for him or her to keep all of their shower related items organized and would make a great gift!
Teak shower caddies can be found in a wide range of prices from below $50 to several hundred dollars. Whatever your price range it you will definitely be able to add a teak shower caddy to your bathroom.  Don't wait another day to start reaping the benefits of having a teak shower caddy.